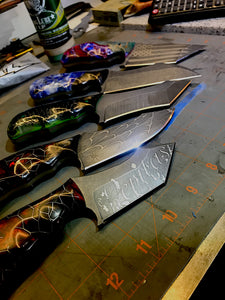 Black Widow Knifeworks offers spa treatments on all of our knives.
This treatment includes:
Re polishing of handles 
Sharpening
Re treatment of CLP oil on the blade its self. 
Sheath Inspection
Fully Insured shipping back to the customer
We will look over the knife sheath to make sure there is proper retention. If for what ever reason the sheath retention is not up to standards we will be sure to address the issue. 
Please be aware, any knife in extremely bad condition might require extra man hours. There will be a $40 surcharge on top of the regular Spa treatment price for any severely chipped cutting edges or broken tips. 



Important


Please safely and securely Wrap any un sheathed blades for shipment!